Der Festivalsommer ist vorbei, es lebe der Festivalherbst! Diese Woche beginnt in Linz das ARS Electronica Festival, heuer unter dem Motto "A NEW CULTURAL ECONOMY – wenn Eigentum an seine Grenzen stößt" und einem Programm das wieder einmal an die Grenzen des überschaubaren stößt und jede Menge spannender Projekte zu bieten hat.
Von der ARS geht's dann nach Vorarlberg, wo am Spielboden vom 11.-13.9 das soundsnoise Festival stattfindet.
"Experimentelles, Avantgardistisches, Schräges und Extremes aus der Welt der Musik braucht Raum. Diesen Raum schafft der Spielboden.
Das erste SOUNDSNOISE -Festival am Spielboden Dornbirn präsentiert ausgesuchte Höhepunkte der aktuellen österreichischen Elektro-Szene."
Highlights sind unter anderem THE ELECTROACOUSTIC PROJECT von Thomas Gorbach - da wird das erste österreichische Lautsprecherorchester – das BANALE ORCHESTER - aus der Taufe gehoben und the REACTABLE, der auch konzertant zu hören sein wird.

Ende Oktober startet dann im netculturelab in Dornbirn eine Musikperformance, die als Trilogie an jeweils unterschiedlichen Orten stattfinden wird und in deren Rahmen ein Barcamp zu unterschiedlichen Aspekten elektronischer Musik stattfinden wird.
h/ausmusik sind Ingvo Clauder und Lucas Dietrich, Individualisten, Generalisten und musikalische Weggefährten seit vielen Jahren in unterschiedlichsten Formationen und Projekten (Trio and Error, Schönenbach Projekt, Plattform fonorum.com).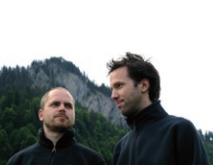 h/ausmusik ist: Aus Musik, Musik ist aus, Musik ist an, Musik zu hause und zugleich an und von jedem Platz auf dieser Welt, stilistisch nicht eingegrenzt, aber immer auf der Suche: Das Ohr nach neuen Klängen, die Hand nach neuen Technologien und der Geist nach frischen Ideen. Das Instrumentarium von h/ausmusik umfasst Computer, Instrumente (Tasten und Saiten), analoge und digitale Klangerzeuger jeder Art, vom weissen Rauschen bis zur (gerade noch) hörbaren Stille, vom Pulsteppich bis zum Klangartefakt.